HARDANGER LAG
Founded Aug. 15, 1911 in Sioux Falls, SD.
---
---
Lag Officers
---
Lag History
Hardangerlaget (The society of people with Hardanger origins. The "et" ending corresponds to the word "the" in English). In 1902 and 1903, between one and two hundred immigrants from Hardanger held reunions in Utopia Springs Iowa, but, it wasn't until 1910 that interested men held a preliminary meeting in Sioux Falls, South Dakota, to consider organizing a lag. At a second preliminary meeting held August 15, 1911, the decision was made to organize. Officers were chosen and committees formed. Planning began for a larger stevne to be held later that year, September of 1911. A resolution stated: All those who were born in inner or outer Hardanger, or are of Hardanger descent, or are married to someone of Hardanger descent shall be eligible to be members of this lag.
The constitution was adopted at the Lag's first stevne held September 28 and 29, 1911 in Sioux Falls, South Dakota. The lag's purposes shall be:
with stevne meetings to maintain personal knowledge and friendship between those from the Hardanger immigrant parish people and their descendants in America.

to seek out, as widely as possible, a complete inventory of the different Hardanger relatives represented in this lag.

to preserve good and useful memories of Hardanger, to work for Norwegian language study and for the preservation of all the good and noble that on Christianity's cause has unfolded itself in the Norwegian life and manner and can be useful and a gift for our land and people.

to hold the lag outside of all connection with political parties, church societies, and lodges.
The original founders include Vollert Hildahl, Tom Questad, Lars Berveen and chosen officers: S.S. Tveit, president; Tosten T. Sexe, vice-president; S.A. Jordahl, secretary; Ole Prestegaard, treasurer; H.S. Hilleboe, historian. There were 241 charter members. Annual meetings included programs of speeches, music, films of Norway and other entertainment; a banquet of Norwegian food, a Sunday religious service; but, perhaps most important, talk with friends and family also attending stevne.
The loose organization of the Lag contributed to a lack of stability and to a lack of devotion in those that did join. After the enthusiasm of the 1914 celebration of Norway's independence, new lag were organized; and existing lag either dissolved, became less active or carried on with a "business as usual" attitude. Our lag members were hoping to dispel the attitude that the immigrants were "less than American". In the year preceding WWI, Hardangerlag met in Canton, South Dakota, continuing the traditions of the Hardanger wedding and the veitla (banquet) while supporting the idea that Norwegian Americans can measure up to anyone claiming to be American. The capable leadership of Samson S. Tveit from Albert Lea MN aided Hardangerlaget in continuing through the Depression years, unlike some of the other lags. During those years, our members found comfort in their gatherings, coming together to recall and relive happier times. The traditional religious services continued in various lag, perhaps due to the large number of clergy as members within the lag. Hardangerlag was one of the lags known for having religious overtones to its stevne. The years of WWII imposed more difficulty on the lags. Moods were down, travel was restricted. Few lags held stevne during the war. Leadership felt the bygdelag movement was dead in the years after the war. Then the immigrant societies revived the desire to unite around the cherished memories of home, but with a change from the immigrants previous local attachments to a now continuing attachment for Norway as a whole and its situation during and after the war. Migration had declined in the decades before the war, resulting in fewer new members to revive the lag with their enthusiasm for the old memories. The older immigrants celebrated their romanticized ideal of Norway. The more recent immigrants were more realistic, finding the bygdelag activities old-fashioned, even obsolete. But even with the original motivating forces gone; the desire to be with friends, to be with people possessing common interests and to locate and know one's roots continued.
Lag membership numbers have increased and dwindled for various reasons over the years, contributing to the decisions of separate lags to join into large, combined lags. In the Hardangerlaget 75th Anniversary booklet, Stella Peterson wrote that Hardangerlag and Nordhordlandslag held their first joint meeting in 1967. Secretary's minutes for Hardangerlag say the two lags continued meeting together for ten years, until voting in 1977 to accept the invitation to meet with Sognalag the next year. The minutes for 1978 and 1979 show that Vosselag participated in those two stevne with Hardangerlag, Nordhordlandslag and Sognalag. In 1979 the new newsletter Vestlandia (name changed to Vestlandet by the third issue) has an article about the possibility of Vestlandslag being formed at the coming stevne, the idea having been discussed intermittently since 1950. The lags had been meeting together for several years, cooperating on holding stevne, yet had remained separate. During a combined meeting of all four lags on Saturday morning, they decided on a merger. Vestlandslag was formed in 1979 for management purposes, with each lag to retain their original identities as districts within Vestlandslag. Issue #3 of the renamed Vestlandet reported the 1979 stevne as successful! The original four lags of Vestlandslag have been joined since then by More og Romsdalslag, Rogalandslag, Sunnfjordlag and Sunnhordlandslag as part of Nordhordland/Sunnhordlanslag.
Note: The information above, with some editing, is from the Vestlandslag Stevne 2011 booklet which contains Centennial Histories of Hardangerlag, Rogalandslag and Sunnhordlandslag, written by each lags' members.
---
Stevne
Hardangerlag is one of eight (8) individual lags that hold stevne as
Vestlandslag.
Holding the annual stevne in June with Valdres Samband.
More current information will be added as it becomes available or
Contact Vestlandslag President Ann Romo
or phone: < 507-824-2297>.
Notes On Previous Stevne
Stevne 2019
or...
what you missed if you weren't there
Wednesday included set-up for stevne in the Dahl Centennial Union of Luther College at Decorah Iowa.
Thursday morning began with a program by Midge Kjome titled Destination Decorah: Norwegians Come to Town. Born & raised in Decorah, graduating from Luther College and time spent teaching at North Winneshiek School, preceded her twenty-two years living in Norway. Since retiring, she has spent 15 years as a full-time volunteer with the Decorah Genealogy Association doing research and developing programs. In addition, she was recognized in 2018 for 22 years of contributions to the Decorah Nordic Fest. All of her experience and expertise shown during her informative presentation. Midge's talk was followed by the program titled DNA Testing by John Storlie. A native of Spring Grove, the well-known destination of Norwegian immigrants, he works at Giants of the Earth Heritage Center. He also uses his PhD in human virology while teaching college courses. We were fortunate to have such a well- qualified speaker on DNA, a subject that is growing in its popularity as testers discover ethnicity, parentage and other, previously unknown, family members. Czechs made the picturesque and fertile land of the Decorah area their home, too. Bus loads of stevne goers toured Historic Spillville, home of the amazing hand-carved clocks of two farmers, the Bily brothers. None of their one- of-a-kind clocks were ever sold and are now on display on the first floor of the Bily Clocks Museum. The Museum's upper floor is dedicated to the memory of Czech composer Antonin Dvorak. For all of his life, Dvorak held fond memories of the 1893 summer when he and his family lived in that same second floor space. The next stop was the lovely St. Wencelaus Church, the oldest Czech Catholic Church in the US. Church furnishings include the original pipe organ installed in 1876 & played by composer Dvorak while he stayed in Spillville. The last tour stop was Washington Prairie Lutheran Church, one church of many served by pioneer Pastor U.V. Koren and his wife & author, Else Elisabeth Koren. Time walking the adjoining cemetery included overheard exclamations of recognition when finding an ancestor's name on a grave marker and much picture taking. We were served a wonderful meal of familiar Norwegian foods, including lefse and rømmegrøt, by an efficient group of Church basement ladies, and men, before the enjoyable concert of the talented Luren Singers in the church sanctuary. After returning to campus, attendees gathered for pictures of individual lags and Rogalandslag held their annual meeting, giving members opportunity to attend other lag meetings of interest on Saturday.
Friday began with Elaine Hegg's program, the result of her 15 years of research on the true story of Death in a One-Room Schoolhouse. Her father was a student in 1921 of the victim Inga Magnuson, and Elaine became interested while young. She had copies of her book for those interested in learning more about the young teacher, murdered in the one-room, Bee country school. Opening ceremony began with the call of the lur, then Tamra Foster directed the memorial service. Gordon Eddy stepped in for the planned speaker on Norman Borlaug. Living in Cresco IA where Borlaug was born gave Gordon opportunity to learn much about the man, including his ancestry in Vik.. Gordon told us much about the innovative son of Norwegain immigrants who is credited with feeding the world, saving a billion lives,while endeavoring to end hunger, famine and misery world-wide. Our next speaker was Dr. Willfred F. Bunge, author of Transformed by the Journey published as part of the 150th anniversary of Luther College. Dr. Bunge is well acquainted with the history of Luther college, after years of service as Registrar and Professor earning him the honor of being named Professor Emeritus. Friday afternoon was to end with Lynn Schmitt's informal demonstration of Nålbinding. Said to predate both knitting or crocheting, its single needle technique results in a sturdy, yet elastic fabric; think socks & mittens.The genealogy room had closed late Friday afternoon after two days of research opportunities. We enjoyed the beautiful the Bunad Parade Friday evening. After the delicious meal, we were treated to Hardanger Fiddle Music by Ladies of the Fjord. Carlyce Skjervem added Hardanger fiddle to her list of instruments she plays in 2013. Active in performing and teaching, she is a member of Hardanger Fiddle Association of America. Karen Rebholz learned about the Hardanger fiddle from her grandmother.She began playing in 2008 & building Hardanger fiddles in 2012. She & Carlyce lead a Madison area Hardanger fiddlers group. Did you see Karen's hand-crafted fiddle entry in the People's Choice judging at Vesterheim?
Saturday began with lag meetings .Vendors were busy with sales of Norwegian themed goods. Noon was a last chance to share a meal with friends. After lunch, members were saying farewell to long-time and new friends and for some, a farewell to newly discovered relatives. The decision should be made soon about the location of stevne 2020. Hope to see you then!
To see notes from even earlier stevne see Archived Files
---
Stevne Photos
Click on photos to see a large copy.




---
U.S./ Dakota Indian War of 1862
&
Hardanger Emigrant, Guri Endreson Rosseland
This year 2012 was the 150th anniversary of the U.S./Dakota Indian War that began in 1862 and left so many of the Dakota Indians, US soldiers and civilians killed; and Dakota Indians living on reservations in South Dakota and Nebraska. To be fair, we should learn as much as possible about the conflict before forming an opinion as to its causes.
Descendants of the Dakota Indians, soldiers and civilians may never agree on the cause of the U.S.-Dakota Indian War that began in 1862. Some say the Dakota refused to honor the treaties their chiefs had signed during the early & mid-1800's. Others say the government agents and traders didn't deliver the food , supplies and annuity payments to the Dakota in compliance with the treaties as the price for the land. Between 400 and 600 soldiers and civilians, and an unknown number of Dakota Indians were killed in the long six weeks of the war. Thirty-eight Dakota men were hanged that December in Mankato MN, the largest mass execution in our nation's history. President Lincoln had commuted death sentences to prison terms for another 264 Dakota men, part of the original group receiving death sentences. Many Dakota fled the area, but approximately 1600 surrendered.and were ordered to be held at Fort Snelling MN. After losing approximately 300 people during their difficult winter at Fort Snelling, the survivors were forced onto reservations in Dakota Territory and Nebraska.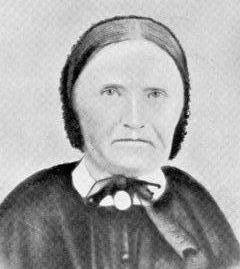 Guri Endresen Rosseland, 1813-1881.Wife, mother, immigrant, pioneer, heroine. The details of Guri's story may change with each re-telling, but the basic story stays the same. Unable to share the details any earlier, a simplified, much-shortened version of her ordeal was finally included in a letter written four years later to her family members at home in Hardanger Norway. Using several sources for information, her story may be close to this:
As part of the Indian War of 1862 in southern Minnesota, the Indians, friendly until this point, attacked her family while she and her youngest daughter were in her family's root cellar. While continuing to hide there, she witnessed the rebellious Indians as they attacked and killed her husband, Lars, and oldest son, Endre. After the Indians had finished ravaging her loved ones and departed, Guri emerged from her hiding place into the dark and silent night to find the bodies of her husband and two sons, her two older daughters kidnapped by the attackers and most of their stock stampeded. She wandered the night away, unsuccessfully trying to travel the distance to a married daughter's home nearby. Returning to her own log cabin, she was over-joyed to discover son, Ole, alive and wounded, but not dead as she had thought. After Guri gathered bedding and scraps of food, they set off in a cart, two unbroken oxen pulling it along. Afraid to approach her married daughter's cabin after finally arriving there, they returned to their own and spent another night. Guri decided whoever may be at her daughter and, son-in-law, Oscar Erickson's home must be helped whatever the risk. Returning to that cabin, she discovered two men, pioneer settler and trapper, Solomon Foot and her son-in-law, Oscar. After cleaning and dressing the men's wounds, she loaded the men onto the mattresses she had placed in a better wagon; un-aided in all of this, her son unable to help due to his broken shoulder. With Foot sitting with his rifle lying across his lap, Erickson suffering so badly that he begged the others to kill him, her wounded son and baby daughter, Guri led the escape. Never-sleeping, rummaging for provisions, Guri led the group for three days until their arrival in Forest City about thirty miles away. Arriving there, she discovered her two daughters had escaped the Indians, wandered alone on the prairie for several days and been brought to Forest City by a rescue party. Historic markers were erected at her family cabin and, nearby, at the graves of her husband and son , buried where they were killed. In 1907 a monument telling of her ordeal was erected at Vikor Lutheran Cemetery near Willmar MN. She and her families returned to live in Kandiyohi County and she is buried in the church yard; the spirited pioneer woman who, as some said "just did what she had to do, without complaint" and, as she told her Haringer relatives in that letter written four years after, "praised God that she and her daughters escaped with their lives, unharmed by the savages who had raged so fearfully."
---
Names being researched by newsletter subscribers.
A list of the names currently being researched by Hardanger Hilsen subscribers
is available as of 02/05/2017 ... READ MORE
---
Hardanger Lag Resources
For a compiled listing of current Hardanger resources to
aid you in your family research see here...
---
---
This site hosted by Norwegian-American Bygdelagenes Fellesraad : www.fellesraad.com